While there is still some precious time left to cherish before Super Bowl LI sees the New England Patriots face the Atlanta Falcons on February 5th, the dark void that is the offseason looms just beyond.
We have over seven months to wait for the next meaningful football game after the final whistle blows in the Super Bowl. That sounds like an eternity to us, so we decided to put together this list of the ten things we won't forget about the 2016 NFL Season.
Feel free to look back upon it wistfully while baseball and basketball games drag on in the background this spring:
The 'Boys are back
It's been a long time since the Cowboys were a true force to be reckoned with in the league, but the NFL gladly welcomed them back to the limelight. "America's Team" is the most valuable sports franchise in the world with a net worth of over $4 billion, making their return to relevancy far from a bad thing for football. Most credit Dallas's success to their pair of standout rookies: Quarterback Dak Prescott and Running Back Ezekiel Elliott. Dak and 'Zeke led the Cowboys to a 13-3 record (and if it weren't for those pesky Giants, they could have made a run at perfection) by doing a lot of this:
And this:
And so are the silver and black.
It had been 14 years since the Raiders made the playoffs, but just like the Cowboys, one of the NFL's most heralded franchises returned from the depths of the standings to qualify for the postseason in 2016. Oakland got off to a scorching hot 10-2 start, with losses coming only to the eventual NFC Champion Falcons and the division rival Chiefs. Things looked promising for a return to playoff glory in the bay area until this happened in Week 16:
Quarterback Derek Carr knew immediately that his leg was broken and he would be done for the season. Things still look optimistic for this rejuvenated Oakland squad heading into next year, though their recent bid to relocate to Las Vegas should concern longtime Raiders fans. Speaking of relocation…
Football returns to LA.
The Rams announced early in 2016 that they would officially be heading back to Los Angeles and the city rejoiced. After over two decades without an NFL franchise and years of whisperings about a return, football was finally back in Los Angeles. Unfortunately, the honeymoon period between the Rams and LA didn't last very long. After a surprising 3-1 start, the Rams would go on to lose 11 of their last 12 games and were already being booed by fans in Week 9. Even first overall pick Jared Goff was helpless to turn the season around after getting a look to start under center: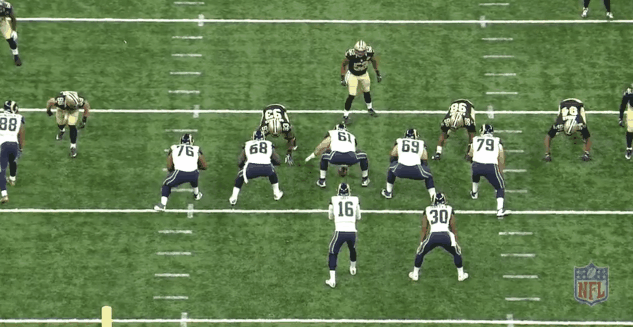 Things fared even worse for Head Coach Jeff Fisher, who was eventually fired in December.
While the rose-colored glasses were quickly removed for fans in Los Angeles this season, they got another dose of hope when the Chargers announced they would be moving to Hollywood earlier this month. The people of LA asked for football and they got plenty of it – now let's just hope for their sake that it's good football.
Deflategate is over.
It feels like we've been talking about it for years, which we kind of have, since reports of an investigation into the Patriots intentionally underinflating footballs first surfaced in May 2015. It appeared Tom Brady had dodged a suspension for his alleged involvement in the scandal, but for whatever reason, NFL Commissioner Roger Goodell appeared determined to punish Brady, so the matter was revisited in a U.S. Court of Appeals this past offseason. The result was a reinstatement of Brady's four-game suspension for the 2016 season.
The future hall-of-famer was forced to serve the suspension and despite this dignified Facebook post, we all knew he wasn't pleased about it. So rather than rip into Goodell through social media, we're pretty sure he just imagined every defender he faced this season was the Commissioner himself en route to a seventh Super Bowl appearance.
Aaron Rodgers can see the future.
Rodgers might be considered something of a prophet now. The Packers looked to be done for the season, falling to 4-6 after a loss in Washington, when their signal caller told reporters that they could run the table. And that they did. Rodgers, who was looking subpar up to that point in the season, took charge of his team the way any great quarterback should.
The Pack would go on to win the NFC North at 10-6, blowout the Giants in the wildcard round, and edge out the top-seeded Cowboys in the crown-jewel game of the postseason thus far before an NFC Championship game loss. This marked the second time in his career that Rodgers' comments to the media seemingly sparked a run of victories for the Packers (you may remember him telling fans to "R-E-L-A-X" a couple years ago.) He may not actually be psychic, but we suspect he has some superhuman abilities. How else do you explain him pulling this off, AGAIN?
View post on imgur.com
Odell's rocky relationship with the kicking net.
Odell Beckham Jr. ended the season with another loaded stats sheet and made his first playoff appearance as a pro. But what we'll most remember about his 2016 season are his interactions with the sideline kicking net. Following a late loss to the Redskins at home, OBJ stormed off the field but not before taking out his frustration and gifting the internet with this magnificent GIF:
Just two weeks later, Beckham chose to be the bigger man after scoring a touchdown in Green Bay and tried to make amends:
Things must have gone well for the two former foes over the ensuing week because Beckham got down on one knee and proposed to his new love after scoring the decisive touchdown in a win the following Sunday:
You've got to give the man credit – he's a born entertainer.
Eric Berry leading the Chiefs to an improbable victory.
Kansas City took a 20-16 lead into halftime after an Eric Berry pick six late in the second quarter. His Chiefs would proceed to go up by two scores, only for Atlanta to come storming back and take a 28-27 lead with 4:32 to go in the contest. The Falcons made what they thought was a smart move by going for two to separate themselves from KC by a field goal. But that's when the playmaking safety stepped in again:
Berry intercepted Matt Ryan and took it to the house again, only this time it was worth just two points being that it was on a two-point conversion attempt. Nonetheless, two points were all the Chiefs needed to regain a lead, which they would hold for the rest of the game. Berry's big day took on even more significance being that it came in his first NFL game in Atlanta, where he was treated for Hodgkin's lymphoma in 2014.
Arguably one of the best games of all time

.
That wasn't the only thriller the Chiefs played part in this season. Just a week earlier, KC edged out the Broncos in what has to be one of the greatest regular season games we've ever watched. With Kansas City ahead 16-10, Broncos Quarterback Trevor Siemian orchestrated two quick drives to the end zone late in the fourth quarter to take an 8 point lead. But Alex Smith countered with a 13-play touchdown drive of his own and, needing two to tie, Smith found Demetrius Harris in the end zone to force overtime.
In the ensuing extra period, each team would march downfield on laboriously long drives only to settle for matching field goals. Then, with only about a minute left in the game, Denver coach Gary Kubiak lost his gamble as Brandon McManus' 62-yard game-winning try went short and left. Smith got a chance to lead his Chiefs downfield once again, giving his kicker a shot to end it from 34 yards out with seconds remaining.
Here's how close we were from seeing the season's most dramatic game just end up being the season's third tie:
Definitively the worst game of all time.
As blessed as we were to witness that Chiefs-Broncos game, only did we deserve such entertainment after enduring a brutal 6-6 tie between Seattle and Arizona. Arizona put up over 450 yards of offense, compared to a meager 257 from Russell Wilson's Seahawks, so by all accounts, the Cards had every reason to win this game. Except for one – their kicker. Chandler Catanzaro hit the upright from 24 yards out to cost the Cardinals a victory. Luckily for his team, his Seattle counterpart had an equally atrocious miss from 27 yards away in overtime:
After 75 minutes that felt like they would never end, this misplaced prime time matchup finally granted us all mercy and ended in a draw that would hurt both teams playoff positioning down the road.
Colin Kaepernick takes a stand knee.
Perhaps more than anything, we may end up remembering this season for something that happened before a game rather than during it. In an extremely polarizing and controversial move, the 49ers quarterback kneeled during the playing of the national anthem before a preseason game in San Francisco. Kaepernick stated that he would not stand up to honor a country that he felt did not stand up for African-Americans and other minorities.
He would boldly continue to do so for the rest of the season and while many booed him and criticized the protest as disrespectful, his message caught on with many players around the league who would demonstrate themselves.
So there you have it – the defining storylines of yet another compelling NFL season. Savor every moment of the game next Sunday because before you know it you'll even be wishing you could watch that Seahawks-Cardinals game again if it were the only football available to you. But in those desperate moments, just remember all the thrills and drama of this season and seasons past, and remind yourself of how worth it this wait will be.